"I believe there need to be women visual in our every day landscape, working hard and doing their own thing, whether you like it or not, whether it's acceptable or not…I especially hope to inspire young women because often I feel like so much emphasis is put on how beautiful you are, and how thin you are, and not a lot of emphasis is put on what you can do and how smart you are. I'd like to change that, change the emphasis of what's important when looking at a woman." – Margaret Kilgallen
at age 33, she had reached the pinnacle of her career, or so some thought. margaret kilgallen, a contemporary street artist widely influenced by american folk art was a widely acclaimed, successfully exhibited artist who not only infused her last works with inspiration and energy from pregnancy but was fighting for her life as well. in 2001 kilgallen created one of her last trademark installations for a show at the institute of contemporary art in philadelphia, just a couple months prior she not only gave birth to her daughter, Asha, with her husband and artistic collaborator barry mcgee, but also completed her master's degree from standford university. tragically she passed away while in her last stages of fighting breast cancer. massively towering images with hand-painted streetscapes, punctuated carnival letters and cartoonish figures are just some of the brilliantly beautiful work margaret kilgallen created on the streets of san francisco's mission district.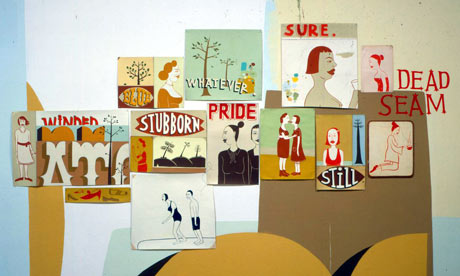 originally introduced to kilgallen's works when watching the documentary "beautiful losers" (it's on instant view for all you netflix heads…you're welcome) which was filmed in 2008 and profiles not only kilgallen, but a handful of other artists who in the 1990s formed a collective associated with the new york gallery, alleged. some of the artists included harmony korine (screenwriter of the film Kids), mike mills and shepard fairey. the documentary also highlights the work of the painter barry mcgee, known in san francisco's by his tag, twist, who married kilgallen in 1999. directed by the original owner of alleged gallery, aaron rose, "beautiful losers" is a love letter to punk, skateboarding and graffiti, to the joy of turning your garage into a studio and of creating something from nothing.
beautiful losers trailer. check it!

"If you're doing something in the city, then hopefully you're speaking to somebody who has an open mind who is walking by. And you're also speaking to a community of other people who do similar types of work. I like to think that the outdoor community is broad and able and open for anybody to see."
– Margaret Kilgallen
kilgallen started her folk art workings first as a graffiti artist under the tag names "meta" and "matokie slaughter." the latter name, a homage to folk musician matokie slaughter, was used solely for freight train graffiti, a hobo tradition that strongly influenced her work. kilgallen was not only an artist, but an accomplished banjo player, became an avid surfer and also become one of the founding members of the mission school which formed in the 1990s. this art movement, coined as a lowbrow art movement, centered around the community and culture that flourished (and still thrives, no doubt) within the mission district of the enchanting city of san francisco. artists of the mission school took their inspiration from the urban, bohemian, DIY "street" culture of the district using non-traditional artistic mediums, such as house paint, spray paint, correction fluid, ballpoint pens, scrapboard, and upcycled objects; strongly influenced by mural graffiti art, comic and cartoon art, and folk art forms.
"On any day in the Mission in San Francisco, you can see a hand-painted sign that is kind of funky, and maybe that person, if they had money, would prefer to have had a neon sign. But I don't prefer that. I think it's beautiful, what they did and that they did it themselves. That's what I find beautiful."
– Margaret Kilgallen
the art and beauty that kilgallen infused into small parts of the city of san francisco (and beyond) is sure to inspire many rising artists. being drawn to kilgallen's work is multifaceted, much like the brilliance and awe of a diamond. her creations give allowance and new light to the image of a woman and the ideals that womanhood encompasses. independence. strength. love. perseverance. and even more strength. this quality, this strength resonates throughout her work and teaches it's tale to those willing to take the journey, just like the story of her life.